Knutzen Farms
Incorporating the knowledge of the past
 with the insight of the future.

Knutzen Farms is a family owned and operated business.
---
Fifth Generation
The fifth generation of Knutzens now continues the legacy of farming in the Skagit Valley and runs the operation. Kristi, Kraig and Konnie work in partnership, focusing on their own area of expertise.
Kraig Knutzen is the farm manager for Knutzen Farms. A graduate of Washington State University with B.S. in Agricultural Economics, he was on the Executive Committee and served as Chairman of the Board for the U.S. Potato Board. He serves on the Ag Coordinating Committee and the Shoreline Master Committee for Skagit County. He served as a committee member on the Skagit County Farm Service Agency and the Skagit County Farm Bureau. He is a member of Pi Kappa Alpha fraternity. Kraig is married to his wife, Colleen, and they have two children, Tyler and Jacob. He is active in his church, loves boating, and his latest passion is brewing beer.
Kristi Gundersen is the CFO of Knutzen Farms and heads the sales department. A graduate of Washington State University with a B.S. in Economics, she is an advisor to the USDA Farm Service Agency and is a member of the board for the United States Potato Board. Kristi is a member of Kappa Kappa Gama sorority. She was a past president of the Venture Club of Burlington and was awarded Venturist of the Year. Kristi is married to her husband Kevin and they have two children, Alyssa, and Dan, who also works at the farm. Kristi is active in her church, loves gardening and shows Quarter Horses in her spare time.
Konnie McCutchin focuses on food safety, marketing and HR for Knutzen Farms. A graduate of Central Washington University with a B.A. in Fine Arts, she is the current Chair of the Washington State Potato Committee, serving on the committee since 2004. She serves as the Chair of the scholarship committee for the Skagit County Farm Bureau, is a board member of the Northwest Ag Business Center, and is the acting secretary for the Skagit County Drainage District #14. Konnie is a graduate of Class 31 of the Washington Agricultural and Forestry Leadership Program and has traveled world-wide on agricultural exchange trips. She is married to her husband Mike and they have two children, Korrin and Kolton. In her spare time she is active in her church and is an avid photographer.
---
Sixth Generation
Dan Gundersen is the first member of the 6th Generation to join the farm. Focusing on sales, crop protection and inventory management, he is a graduate of Washington State University with a B.S. in Agribusiness. He has traveled to Peru and Chili to study potato production. He is married to his wife, Charlie, and has a beautiful daughter, Ela.
Tyler Knutzen is the second member of the 6th Generaton to return to the farm. Tyler brings expertise in Planting, Tractor Maintenance and Small Grain Production. He graduated from Washington State University in Agricultural Technology and Management. Tyler has traveled in Europe studing machinery and potato production.
---
Mission Statement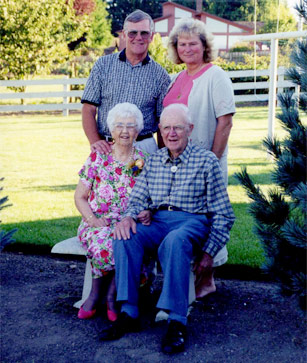 Knutzen Farms is committed to producing a premium specialized product that will meet or exceed our customers' expectations. We will uphold and enhance our quality reputation which differentiates us from our competition. We will be innovative and proactive in both our production and marketing without jeopardizing our integrity. By continually striving to increase profitability, we will assure that this family business is a viable and stable operation. It is our aspiration to offer a safe, rewarding atmosphere for employees, partners and future generations alike.