Knutzen Farms was founded in 1894 by Jess H. Knutzen, an immigrant of Broager, Denmark. Jess and his wife Metta raised seven sons to be true visionaries. This incredibly hard working family homesteaded in the Olympic Marsh located in North West Washington. This area was much to be desired cluttered with stumps and snags. With years and years of hard work and true dedication to the vision, the once bay bed was transformed into a working farm and named Highland View. The desire to be good stewards of the land and to preserve the land for future generations has been handed down and instilled for over a century. Today Knutzen Farms is owned and operated by the fifth generation.
Today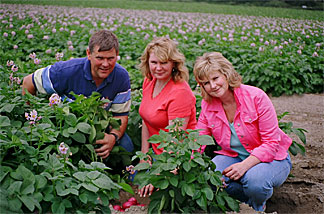 Knutzen Farms is a diversified agribusiness owned and operated by the Knutzen Family. Being family owned and operated is quite beneficial allowing us to personally nurture the crop from receiving the seed, planting, growing, monitoring, harvesting, packing and shipping. The entire operation has a unique touch called "FAMILY PRIDE" to make Knutzen Farms potatoes stand out with continuous high quality. The owners and the employees at Knutzen Farms are proud of the potatoes we produce here in the Skagit Valley and would love to share them with you. To speak with a family member please feel free to call (360)-757-6771. Thank you for taking the time to become a little more familiar with "Family Pride of Knutzen Farm".
Operating the farm today is the 5th and 6th generations of Knutzen's. We are not only  farming the land our great-great grandparents and their sons cleared but we are also living the "AMERICAN DREAM". Over 100 years of farming the land our parents, grandparents, great grandparents and great-great grandparents made possible. We are deeply rooted and will continue to keep the farm alive and the legacy living.